Chin rest (head holder) device for NIRS
When we set up our NIRS lab back in 2008, we needed a device to prevent participants' head movement during the experiment and during the digitizer measurement. Even though NIRS is tolerant to head motion, we still want to minimize it. During the digitizer measurement phase, the probe will poke the participants' heads, resulting inaccurate probe position. We definitely need something to minimize it.
In addition, we feared that metal might interfere the magnetic positioning system (digitizer), so we wanted the device to be all-plastic.
We contacted Ben Krasnow , who has been very helpful in creating MRI compatible devices (e.g. keyboard) for Lucas Center @ Stanford in the past. He suggested us use University of Houston's "headspot".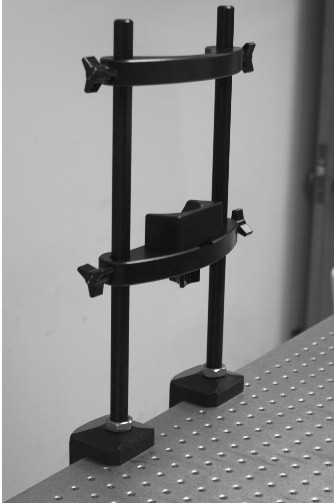 Ben then replaced the metal part with plastics.
we have been using it for almost 10 years! It works great, as expected. The height is also adjustable. I recently checked the price and it is $500, which is slightly higher than in 2008 ($415), but not much different. Ben charged $325 to replace the metal. The total (with tax) was $774.
Try Stork, a research tool we developed

Stork is a publication alert app developed by us at Stanford. As a researcher we often forget to follow up important publications - and it's practically impossible to search many keywords or researchers' names everyday. Stork can help us to search everyday and notifies us when there are new publications/grants. How Stork helped me?
About the author:

Xu Cui is a human brain research scientist in Stanford University. He lives in the Bay Area in the United States. He is also the founder of Stork (smart publication alert app), PaperBox and BizGenius.

&nbsp

He was born in He'nan province, China. He received education in Beijing University(BS), University of Tennessee (Knoxville) (MS), Baylor College of Medicine (PhD) and Stanford University (PostDoc). Read more ...