This is a guest post by Ning Liu from Stanford University.
Temporal resolution provides information on the distance of time between the acquisitions of two images (data) of the same area. It is the reciprocal of sampling rate (or acquisition rate) of an fNIRS device. For some devices, sampling rate is a fixed number; for some other ones, sampling rate may depend on number of sources or detectors to use. Why is that? It is because they have different instrumental design. For those with unfixed sampling rate, multiple sources time-share an optical detector by means of a multiplexing circuit that turns the sources on and off in sequence, so that only one source within the detector range is on at any given time. The NIRx system, for instance, are using this type of design. For those with fixed sampling rate, they usually use low frequency modulated light source to provide the excitation light, thus one detector can 'see' only one source.
For instance, Hitachi ETG4000 system has sampling rate of 10Hz (from http://www.hitachi.com/businesses/healthcare/products-support/opt/etg4000/contents2.html), thus its temporal resolution is 100ms. Some other device, such as NIRScout, has sampling rate from 2.5 – 62.5 Hz (from https://nirx.net/nirscout/), thus its temporal resolution is 16 – 400ms. Why the sampling rate is changing from 2.5 – 62.5 Hz? That's because users can choose different number of sources and detectors in their configuration. The more number of sources and detectors to use, the smaller the sampling rate. The following table is from a review article (Scholkmann, et al., 2014) on NeuroImaging volume 85 (2104), a special issue of functional near-infrared spectroscopy. It summarizes the specifications of some popular commercially available fNIRS devices, mainly focused on continuous wave devices.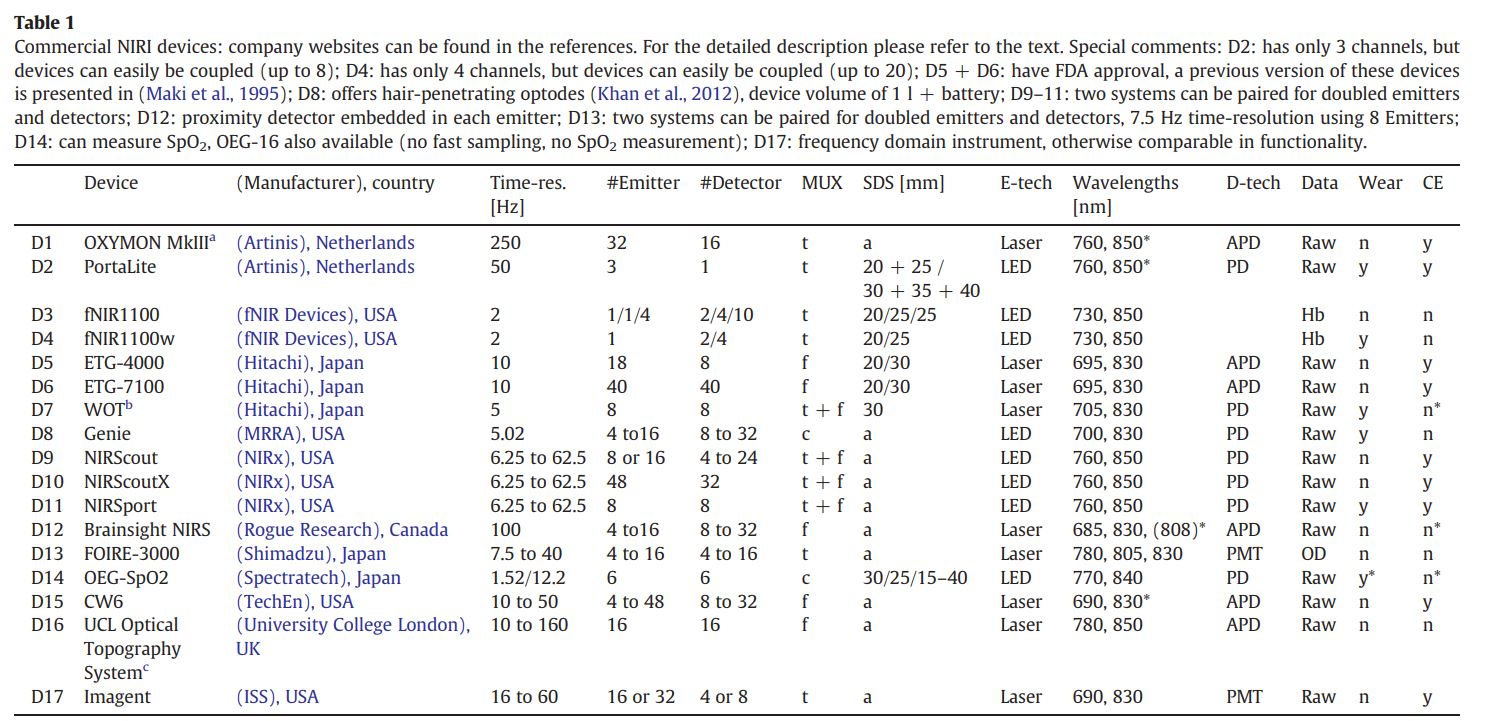 本文作者为斯坦福大学刘宁。她提供NIRS培训服务。
---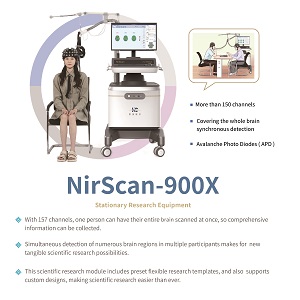 ---
写作助手,把中式英语变成专业英文
---