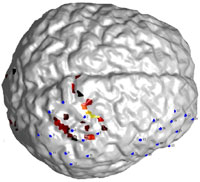 This is an example of brain activation plotted on surface. In many circumstances surface view is much more straightforward than a slice view. Here is how I created such a plot using MatLab and SPM.
Environment and Tools:
Windows XP
MatLab (v7.6)
SPM (v8)
Step 1. Generate "faces" and "vertices" of the surface using SPM
If you prefer to use SPM's interface, launch SPM, then click "Render …" box and click "Xtract surface". You are asked to input an image file. Select an image file and press Done. Select "Save Extracted Surface" and a few seconds later you will find a file called "surf_???.mat" saved in the current directory. Load this mat file and you will find two variables, faces and vertices. These two variables will be used in the future steps.
If you prefer to use command line, you can simple call function
spm_surf('xxx.img', threshold)
About the input image: If you want to plot surface of brain, you should use a segmentation tool (such as FSL) to get the gray matter image, and use this image as input to spm_surf. If you want to plot the surface of skull, you can input the original structural image but with careful choice of threshold.
Step 2. Plot the surface
Plot using MatLab's patch function. Here is a sample code
p=patch('faces',faces,'vertices',vertices, 'facecolor', 'flat',  'edgecolor', 'none', 'facealpha', 1);
facecolor = repmat([1 1 1], length(faces), 1);
set(p,'FaceVertexCData',facecolor);

daspect([1 1 1])
view(3); axis tight
view([50 -40 100])
camlight
lighting gouraud
Step 3. Overlay a functional image
The strategy here is that you first get the coordinates of the activated voxels and the corresponding colors you want to use for each voxel (presumablly dependent on the intensity of each voxel). Then find the vertices and faces that are "close" to the coordinates, and change the face color.
a. get coordinates
v = spm_vol(imagefile); % functional image file
m = spm_read_vols(v);
pos = find(m>=threshold);

[xyzcor(:,1) xyzcor(:,2) xyzcor(:,3)] = ind2sub(size(m), pos);
xyz = cor2mni(xyzcor, v.mat);
intensity = m(pos);
b. convert intensity to color
tmp = hot; % using 'hot' color scheme
mx = max(intensity);
mn = min(intensity);
intensity = round((intensity – mn)/(mx – mn) * 63 + 1);
colors = tmp(intensity,:);
c. plot
distanceThreshold = 2;
p=patch('faces',faces,'vertices',vertices, 'facecolor', 'flat',  'edgecolor', 'none', 'facealpha', 1);
facecolor = repmat([1 1 1], length(faces), 1);
pos = [];
for ii=1:size(xyz, 1)
tmp = find(abs(vertices(:,1) – xyz(ii, 1)) <= distanceThreshold & abs(vertices(:,2) – xyz(ii, 2)) <= distanceThreshold & abs(vertices(:,3) – xyz(ii, 3)) <= distanceThreshold  );
pos = [tmp];
posf = find(sum(ismember(faces, pos),2)>0);
facecolor(posf,:) = repmat(colors(ii,:), length(posf), 1);
end

set(p,'FaceVertexCData',facecolor);

daspect([1 1 1])
view(3); axis tight
view([50 -40 100])
camlight
lighting gouraud
---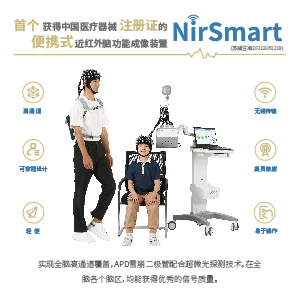 ---
写作助手,把中式英语变成专业英文
---