Let's say you collected some brain data (time series) using NIRS while the participants were performing a task (say finger tapping), and you use the wt function in the "Cross Wavelet and Wavelet Coherence Toolbox" (link dead. Please go to the bottom of this post to find how to download) to plot the power of the signal in both time and frequency domain. What does the plot tell you?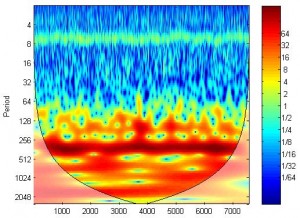 First, you can see there is a clear band around period 8, corresponding to frequency ~1Hz (remember our sampling frequency is 10Hz). This band is actually caused by heart beating. While in most cases you will probably treat this physiological signal as noise and remove it using filtering techniques, the existence of this band should be comforting to you: it indicates that your signal contains something real. If your NIRS device for whatever reason doesn't measure real brain activity (e.g. the probes did not contact the head well), you won't get this band.
Second, you can see there is a red band around period 256. It indicates this signal correlates with the experiment task very well. The task used is a finger tapping task: the subject (actually myself) tapped his right hand finger for 10s, then rest for 20s, and then repeat for 20 times. The period of the task is thus 30s. The red band is actually of period 30s. So for a task that is periodical, you can use wt to check if the signal collected demonstrates similar period.
Well, why use wt but not FFT? The visualization of FFT is much worse. Here I plot FFT of the same signal (y-axis in log scale).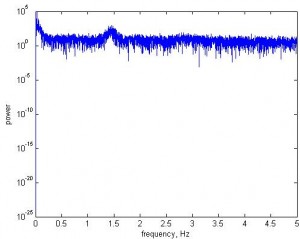 First it is kind of boring. You do see a bump around frequency 1.4Hz which is heart beating. That's good, even though it is not as distinguished as in wt. It is hard to see the 30s (or 0.03Hz) band, while in wt plot the band is very clear.
To download the "Cross Wavelet and Wavelet Coherence Toolbox", please enter
https://www.alivelearn.net/?p=1561
Related:
Wavelet Coherence
Handy programs to visualize NIRS data (4): wt
---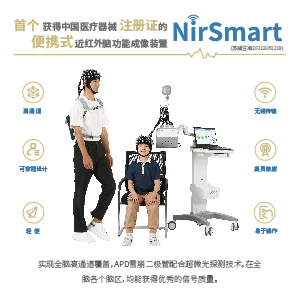 ---
写作助手,把中式英语变成专业英文
---