Wavelet transform coherence (WTC) is a method for analyzing the coherence and phase lag between two time series as a function of both time and frequency (Chang and Glover 2010). Here I played with it using the MatLab toolbox provided by Grinsted et al.
In the following examples, I created two time series, x (blue) and y (red) with different properties (phase shift, frequency and amplitude) and run wtc(x,y,'mcc',0) command. Small white noise was added to the time series.
1. Phase shift and angle. A rightward arrow indicates 0 lag; a bottom-right arrow indicates a small lead of x; a leftward arrow indicates x and y is anti-correlated.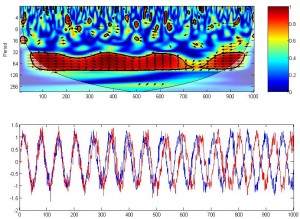 2. Frequency. At what frequency (or period) are x and y correlated?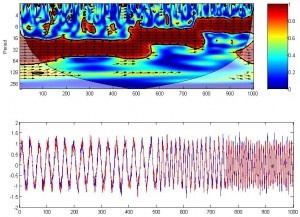 3. Amplitude. It seems amplitude doesn't matter much.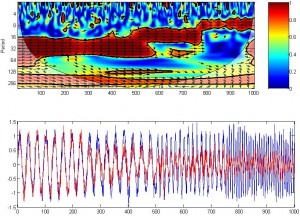 Toolbox can be found:
http://www.pol.ac.uk/home/research/waveletcoherence/
Note: this link is dead. To download the "Cross Wavelet and Wavelet Coherence Toolbox", please enter
https://www.alivelearn.net/?p=1561
MatLab source code:
t =[1:1000]/10;

%% effect of phase
x = sin(t) + randn(size(t))/5;
y = [sin(t(1:250)) sin(t(251:500)-pi/4) sin(t(501:750)-pi/2) sin(t(751:end)-pi)] + randn(size(t))/5;

figure('color','w');
subplot(2,1,1);
wtc(x,y,'mcc',0)
subplot(2,1,2);
plot(x);
hold on;
plot(y,'r')

%% effect of frequency
x = [sin(2*t(1:250)) sin(2*t(251:500)) sin(4*t(501:750)) sin(8*t(751:end))] + randn(size(t))/5;
y = [sin(2*t(1:250)) sin(2*t(251:500)) sin(4*t(501:750)) sin(8*t(751:end))] + randn(size(t))/5;

figure('color','w');
subplot(2,1,1);
wtc(x,y,'mcc',0)
subplot(2,1,2);
plot(x);
hold on;
plot(y,'r')

%% effect of amplitude
x = [sin(2*t(1:250)) sin(2*t(251:500)) sin(4*t(501:750)) sin(8*t(751:end))] + randn(size(t))/5;
y = [sin(2*t(1:250)) sin(2*t(251:500))/2 sin(4*t(501:750))/3 sin(8*t(751:end))/4] + randn(size(t))/5;

figure('color','w');
subplot(2,1,1);
wtc(x,y,'mcc',0)
subplot(2,1,2);
plot(x);
hold on;
plot(y,'r')
---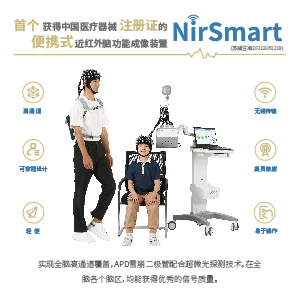 ---
写作助手,把中式英语变成专业英文
---