This is a guest post by Ning Liu from Stanford University.
–
A basic block design includes two conditions: task condition and control condition. The two conditions present alternatively, thus is also called 'AB block' (Fig. 1A). This design assumes that the two conditions can be cognitively added, implying no interactions among the cognitive components of a task. A subtraction comparison strategy then can be used in the data analysis to assess the brain regions involved in the performance of the task. Although, in most cases, this assumption is invalid, many people still use it because it usually produces robust and reproducible results. A block design task often includes more than five epochs per condition, and each epoch lasts 10 to 30 seconds. As an example, we used the following block-designed emotional face task in one of our studies: R-F-S-F-S-F-S-F-S-F-S-F-S-R, where R, F and S represent rest, fearful face and scrambled face epochs respectively. Each task epoch (both F and S) lasts 20 s, and each rest epoch lasts 30 s. (Liu, et al. 2015)
Event-related design (Fig.1B) allows the order of conditions present randomly and the time intervals between stimuli vary. This design is more naturalistic and allows for detecting transient variations in hemodynamic responses (HRF). However, event-related design usually needs more number of stimuli in order to enhance the statistical power, and the experiments are often longer than blocked designs.
Mixed design (Fig. 1C) combines block and event-related designs. It alternates two conditions (task and control) as in a block design. Within a block, the interstimulus interval (ISI) varies as in an event-related design. It allows for extracting brain regions either exhibiting transient neural activity (item-related information processing) or sustained neural activity (task-related information processing). However, it involves more assumptions than other designs, and the estimation of the HRF is poorer than event-related design.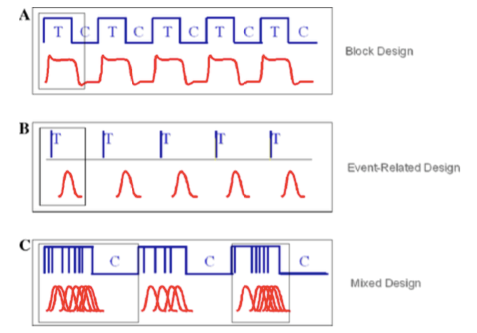 References:
Amaro E Jr, Barker GJ, "Study design in fMRI: basic principle", Brain and Cognition, 2006, 60(3):220-32.
Liu N, Cui X, Bryant DM., Glover GH, Reiss AL, "Inferring deep-brain activity from cortical activity using functional near-infrared spectroscopy", Biomedical Optics Express, 2015, 6(3): 1074-89. doi: 10.1364/BOE.6.001074.
---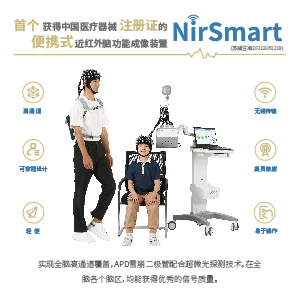 ---
写作助手,把中式英语变成专业英文
---