[last updated: 2019/11/20]
Also check out NIRS data analysis (time series)
Environment requirement
MatLab
SPM 5 or 8
xjView 8
xjview can be downloaded for free from https://www.alivelearn.net/xjview/
(If you are inside CIBSR, xjview  is located in /fs/fmrihome/fMRItools/Xjview)
Add xjview to path by addpath(genpath('/fs/fmrihome/fMRItools/Xjview'))
nirs2img function in this article can be obtained in the page https://www.alivelearn.net/?p=2230 [Link updated on 2019/10/02] or https://www.alivelearn.net/?p=1574. It is located in the nirs folder.
NFRI toolbox  (for standard brain registration)
Download from https://alivelearn.net/20180320_nfri_functions.zip[Link updated on 2021/07/15] and save it in a directory whose name contains no space (e.g. not in something like c:\program files\…).
Preparation
convert NIRS data file to csv format using ETG4000 program.
copy the 3D positioning data (00X.pos). If you didn't measure 3D positioning data, jump to step 5
use NFRI toolbox (Pepe Dan, Japan. http://www.jichi.ac.jp/brainlab/tools.html) to get the MNI coordinates of each probe.  Detailed information on how to use this toolbox can be found in its manual. [Update 2015-07-13. A video tutorial: https://www.alivelearn.net/?p=1726]

Convert 00?.pos file to csv file using
pos2csv
Convert the 3D positioning data into MNI space coordinate using
nfri_mni_estimation
You will get a xls file containing the positions. There are several sheets in that file and you should use the sheet called "WShatC", which contains the positions of cortical surface.

Find channel positions based on probe positions using probe2channel.m
probe2channel(probe, config) Download probe2channel.m here
If you don't have 3D positioning data, you may use the template channel positions located in
load xjview/nirs_data_sample/templateMNI.mat. (Please note, this file was created by Xu based on a single subject's data. It's useful for quick data review but it will be inaccurate to your own subjects. So you should create your own file in formal analysis. [update 2019-02-01])
You will find 6 variables in MatLab workspace. They are channelMNI3x11  channelMNI3x5   channelMNI4x4   probeMNI3x11    probeMNI3x5     probeMNI4x4. They are all Nx3 matrix.
Read data and do GLM
use readHitachData.m to read the data file (csv format). Type help readHitachData to see how to use it. Note if your input is two files (for 4×4 and 3×5 configurations), this script will automatically concatenate the data.
[hbo,hbr,mark] = readHitachData({'XC_tap_MES_Probe1.csv','XC_tap_MES_Probe2.csv'});
Prepare event onset timing, duration etc from the mark data, or external data you have, for later GLM analysis (step 3). The format is:

onset: onset timing of every event. a cell array. Each element is a numeric vector for one event type. Unit: second
duration: duration of every event. same with onset, except the meaning of numbers are duration. If the event is punctuated event, use 0 as duration. Unit: second
modulation (optional): modulation of event. For the same type of event you may have different intensities. For example, your event is flash of 5 levels of intensities. You can use modulation to modulate the intensity.  Format is exactly same with onset.

GLM analysis using glm. Type help glm for more info.
[beta, T, pvalue] = glm(hbdata, onset, duration, modulation);
You may want to save the data for future use.
(if you want to view the result in a standard brain) Convert the values (T or beta or contrasts) to an image file by nirs2img. Try help nirs2img to get more information.
nirs2img(imgFileName, mni, value, doInterp, doXjview)
Visualization
plotTopoMap will plot data on a plane. The data can be T or beta or other values. Type help plotTopoMap for more info. Here is an example (note the data is smoothed by spline):
plotTopoMap(randn(24,1), '4x4');

nirs2img will convert your data to an image file which can be visuzlied by many fMRI functional image programs (such as xjview). Here is an example of visualizing the image by xjview. Note, after xjview window launches, you need to check "render view", and then you may choose between new or old style.
nirs2img('nirs_test.img', mni, value, 1, 1);

Group analysis
For each individual subject, perform GLM and save the beta values for each condition and subject.
Do contrast  on each subject. Contrasts are simply difference of beta values. For example, contrast between 1st condition and 2nd condition is simply c = beta(:,1) - beta(:,2); Then save the contrast in an image file using nirs2img for each subject. You get a bunch of contrast images (one for each subject)
Perform T test on the contrast images using onesampleT.m, or you can use SPM to do one sample T test if you prefer. You will get a T test image file.
Visualize the T test image with xjview (or SPM)
---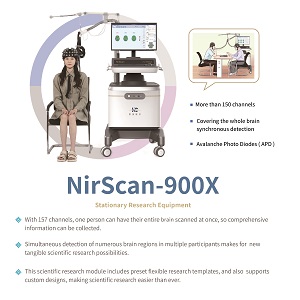 ---
写作助手,把中式英语变成专业英文
---